In the 12th edition of Delft.Business, you can read the story of Online Payment Platform. I have been interviewed about the role of Online Payment Platform in the sharing economy and in the payment ecosystem. Furthermore, I will go in detail about the monumental building where Online Payment Platform is located in. Niels van der Nat of van Frederiks & Van der Nat Interior Architects will elaborate on the major changes that will be carried out. Continue reading below.
The ones that recognise their massive billboard on a flat across the highway A13, could think that Online Payment Platform is a business from Rotterdam. But nothing is less true. The innovative online payment services company deliberately chose for an office in a monumental building near the city centre of Delft.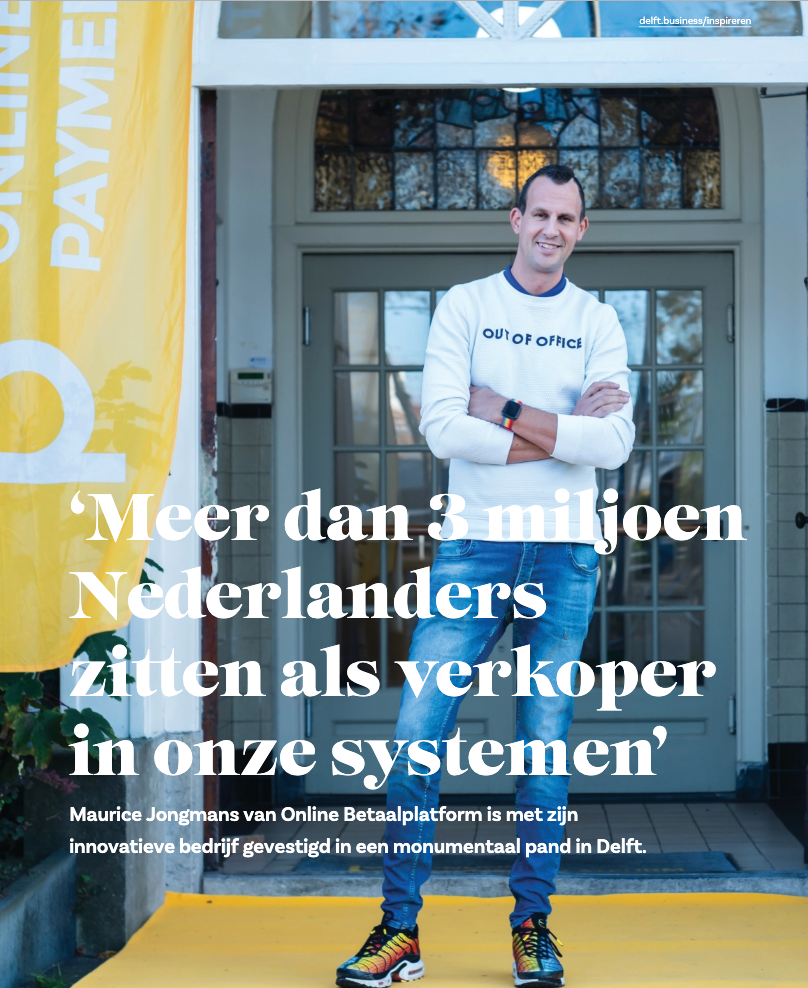 Online Payment Platform offers payment solutions on (trading) platforms. "Many people are not aware of us, but they do know our services such as Gelijk oversteken on Marktplaats." CEO Maurice Jongmans states. "There are over 3 million Dutch people registered as seller in our system. Many people are unaware that they are dealing with us." Our economy is slowly shifting towards a sharing economy, with platforms that enable multiple sellers to offer their products. Jongmans: "Our services allow for all mutual payments on these platforms to run smoothly. Marktplaats is a well-known example, but also think of ANWB-camping or Petbnb for a dog sitter. This platform economy is expanding more and more, for example with specialty websites for art or branded clothes."
New services
Payment service providers such as Online Payment Platform access a greater role in the payment environment. Jongmans: "Previously, a trading platform did not need a license, but the new PSD2 legislation requires a mandatory license for payments service providers. We are in possession of that license and solve the problem for platforms. Last summer, we were the first company to receive an extension on our PSD2 license by DNB (De Nederlandsche Bank). With this extension, we are able to develop new services. That way, people can provide access to their bank account. In collaboration with iDEAL, we are developing the possibility to plan iDEAL-payments for the future. Currently, this is only manually possible in your bank environment, but soon invoices or traffic fine payments could easily be prepared and planned with iDEAL."
A pleasant city
Where many financial service providers choose for establishing business at the Zuidas in Amsterdam, Jongmans deliberately chose Delft. "This is where our roots are. Besides that, the Zuidas is not an inspiring environment. Delft is a very pleasant town. We are located at the Kanaalweg, almost next to the Technical University in Delft, with the city centre around the corner. We feel strongly connected with Delft."
For years, Online Payment Platform rented the upper floor, but that soon became too small for the fast growing company. "Last year, we got the opportunity to buy the entire building which was built in 1847 as mansion and later served as headquarter of the adjacent paint factory.", Jongmans shared. "And so we did. It is a municipal monument with outdated interior. In collaboration with architect Frederiks & Van der Nat, we will renovate and expand the building to be future-resilient."
Miniature
Jongmans proudly presents a miniature of the building in Delft Blue. "During a backstage tour at Royal Delft organised by Delft.business, I found out that Royal Delft could make hand painted company building miniatures.", Jongmans told.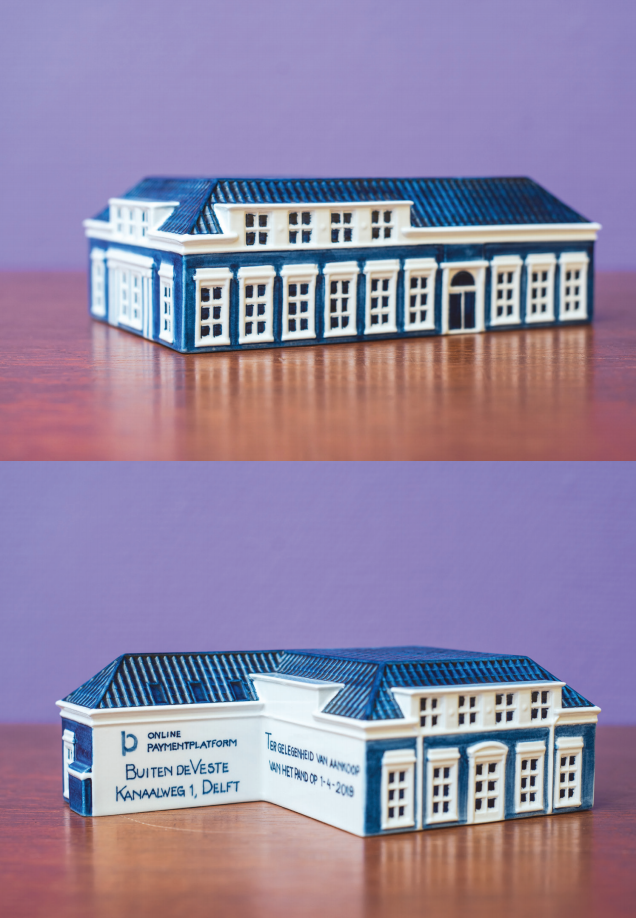 "I believe that is a wonderful symbol of our involvement with the city. We ordered twenty, of which five are already finished. We are using them as a unique business gift. We gifted one of the first copies to the previous owner of the building."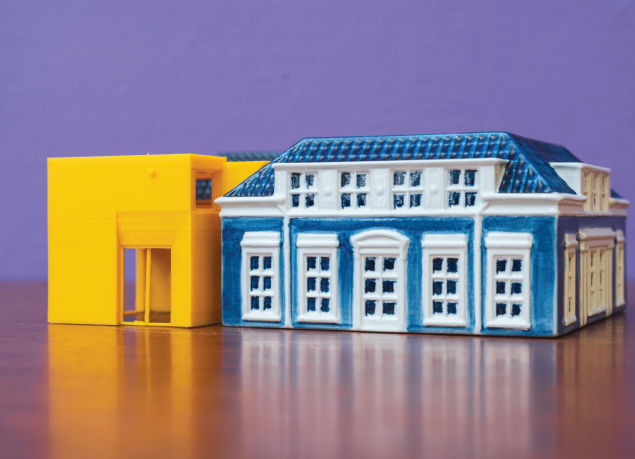 Modernise while maintaining monumental character
"How could you turn a monumental building that was originally built as residence into a modern and sustainable office building? " Niels van der Nat, van Frederiks & Van der Nat Interior Architects, considers it a great challenge. "Maurice and I were once in a network around Het Nieuwe Werken. Therefore, Maurice is aware of our progressive consideration of interiors and designing workplaces, as well as our experience with redevelopment of monuments. Moreover, he enjoys working together with entrepreneurs in Delft and asked us to make a design for renovation."
Quite a task. For example, the layout and installations of the residential building are not designed for forty people and the building is not isolated. In addition, security requires additional attention. Van der Nat: "Online Payment Platform has a license as Payment Service Provider. Data and equipment must be very well secured. In our design, all public functionalities such as toilets, meeting rooms and lunchroom are located at the entrance, preventing that visitors will enter elsewhere in the building." The extension that was previously made is now outdated. "We will replace that with a modern extension with a contemporary look and feel. Our aim is to let measurements connect with the main building, for example window proportions. In the miniature, this contrast is visible: the main building is hand made in Delft Blue and the addition is 3D-printed in yellow."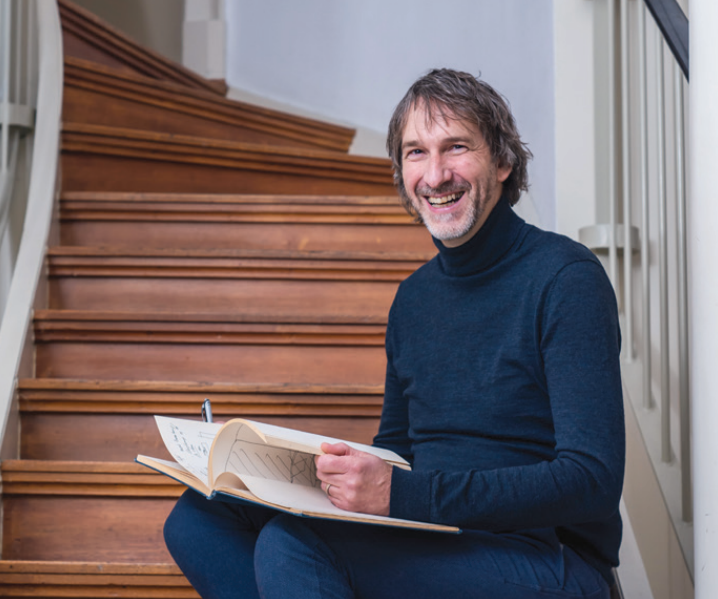 Niels van der Nat van Frederiks & Van der Nat Interior Architects