Online Payment Platform is fully focused on helping platforms and marketplaces efficiently manage payments. Therefore, our ultimate goal is to provide founders, managers and decision-makers of these marketplaces with the absolute best user-interfaces. Our new partner interfaces are a significant step in achieving this goal. And in this blog, we highlight some of the benefits; enjoy reading and do not forget to login and check it out yourself.

Insights in business operations
Once you log into your new partner interface, a live dashboard with relevant statistics and insights is immediately displayed.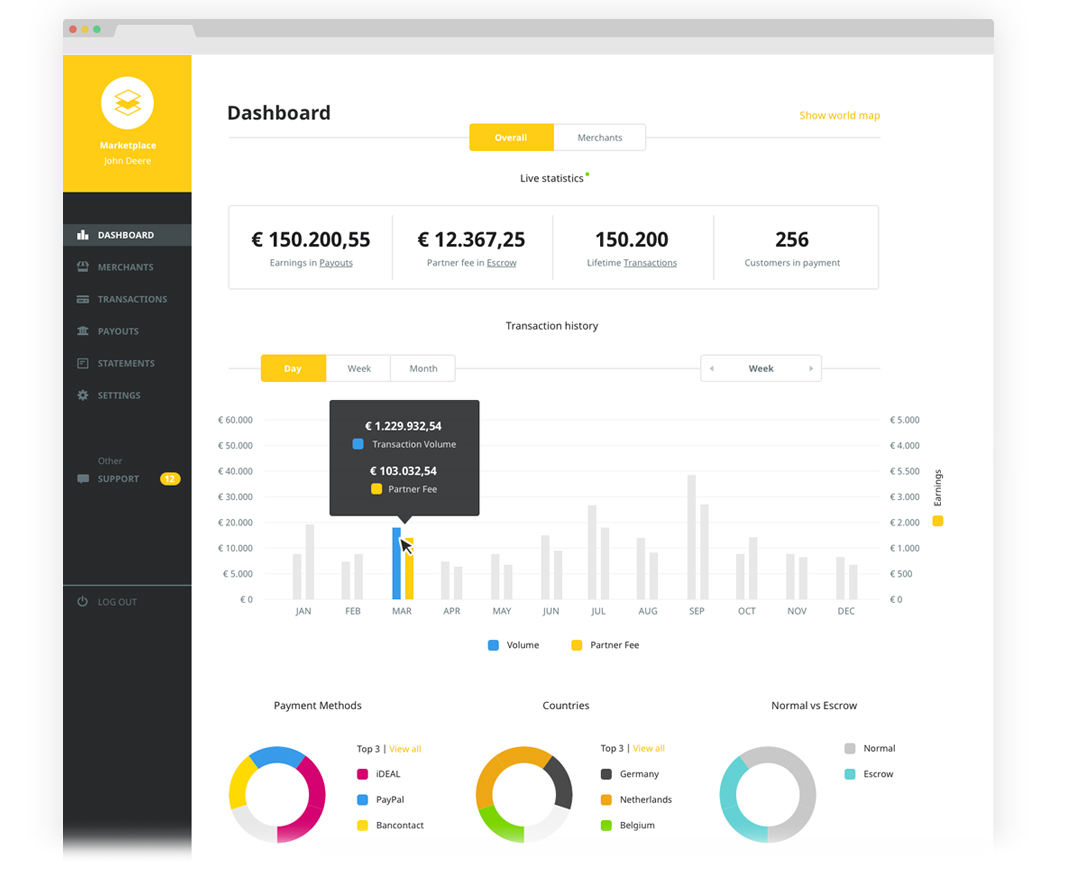 Live Dashboard
These metrics provide key information on the performance and growth of a marketplace, its sellers and the payments. Think of:
Number of transactions that took place
Number of registered sellers (business or consumer)
Originating country of payments and sellers
Distribution of used payment methods
Volume of funds held in escrow
On-going amount of partner fees
And much more...
Merchants
A marketplace cannot function without her sellers (merchants). That is why, the first tab after the dashboard offers the possibility to view all sellers, both business and consumers, in a well-organised overview. You can instantly see the type of merchant, when it was registered and what the status of this seller is (compliance).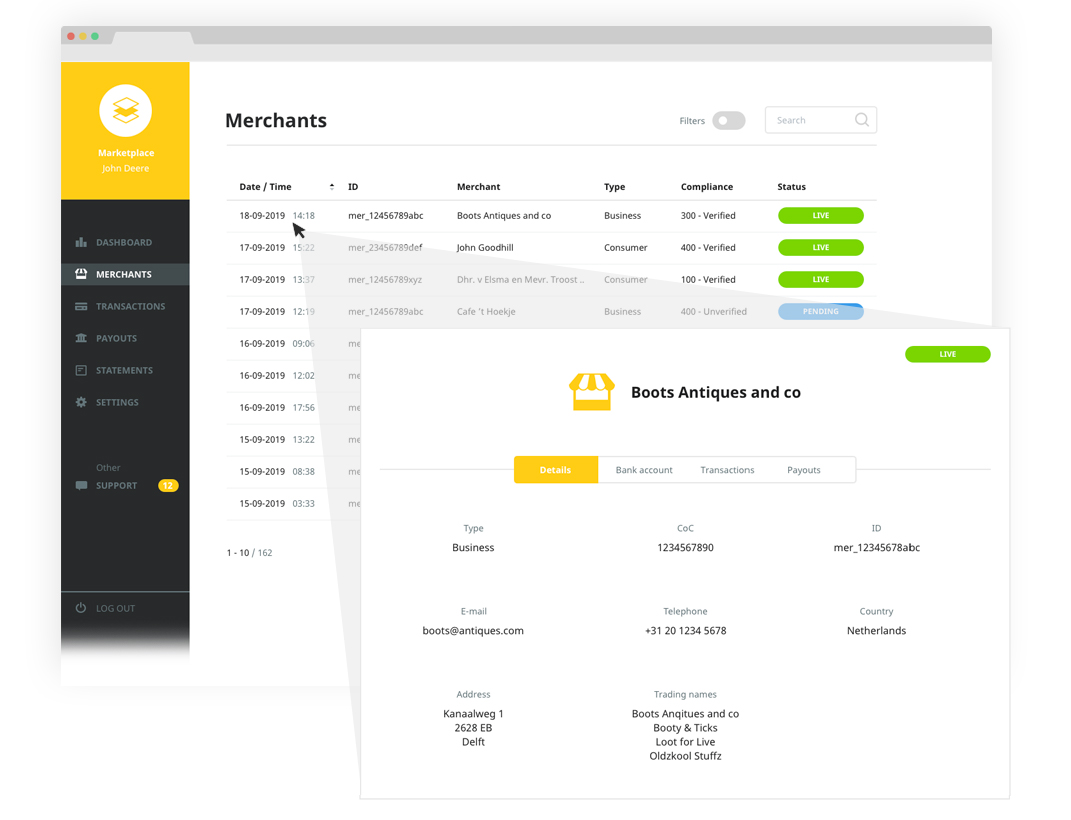 With a click on the merchant, the 'need-to-know' information becomes visible such as:
Contact details
Transaction history
Linked bank accounts
Pay out details
Transactions
Sellers create transactions on the marketplace. The transaction overview provides a live feed of all transactions.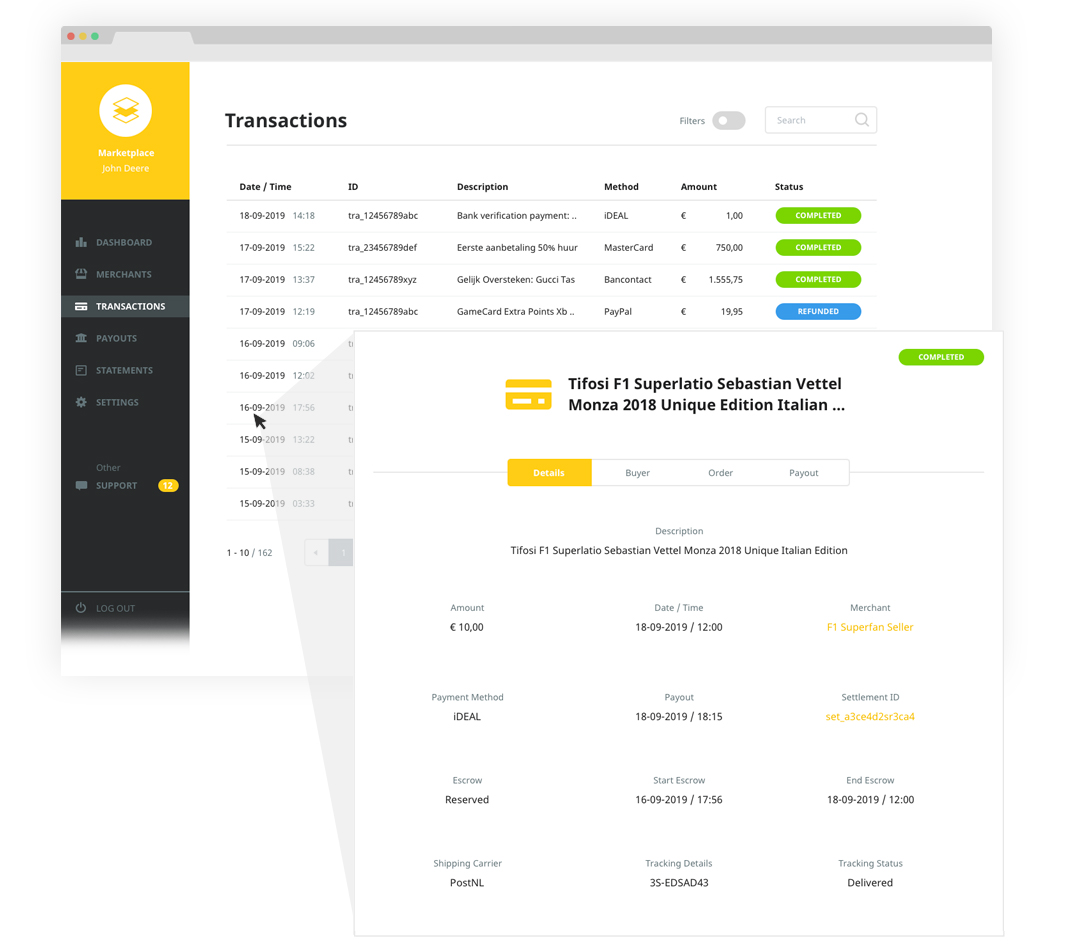 With a click on a transaction, the 'need-to-know' information for this transaction becomes visible such as:
Order details
Buyer information
Detailed pay out information
Grasp on the service fees
As a marketplace, you may want to charge a service fee for transactions. Our 'Multi-Split Payment' feature enables you to split a payment in many parts for example to deduct service fees from payments.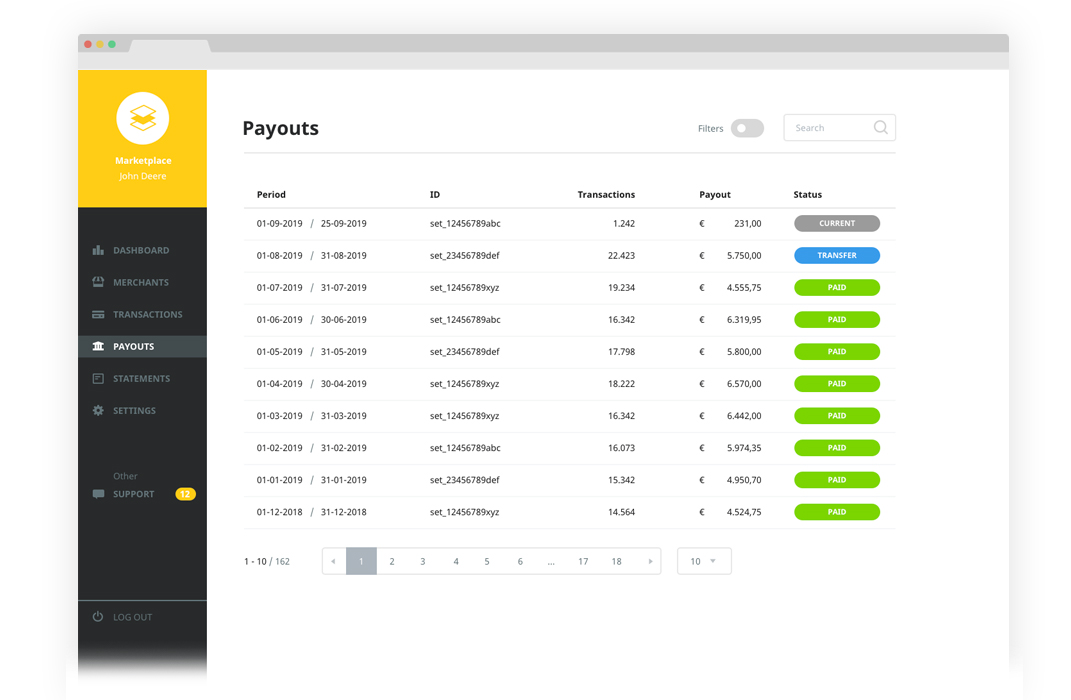 By means of payouts, these service fees are paid out at any desired moment. Within the payout overview, you can find out how much fees are going to be paid out, and where these fees are originating from. The payout overview also provides the full history of all previous payouts.
Offer the finest support service
As a marketplace or platform, you are going to receive support questions related to transactions. This new partner interface will help your team answer questions quickly. Are you experiencing difficulties with resolving questions? In that case, you can easily contact us by telephone or through the internal ticket system, so a member of our support team can help you make your customer happy.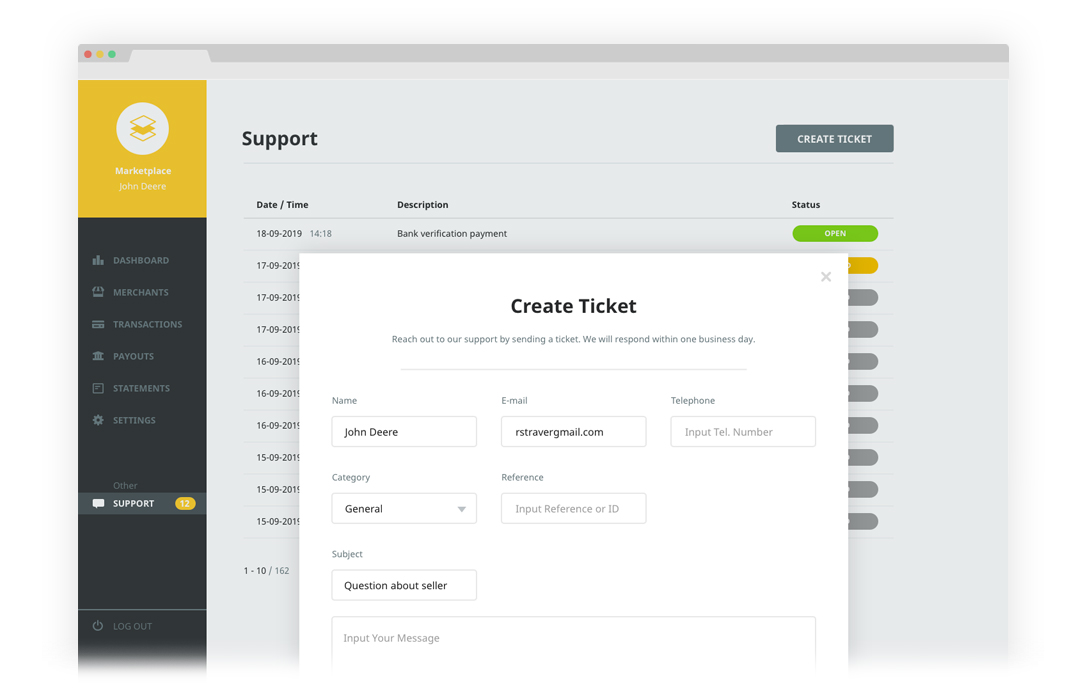 Anytime and anywhere
We have invested a lot of time to ensure that the partner interface and its full capabilities can be operated perfectly on all devices and sizes.
Now you are in control with a firm grasp on everything that is happening and live insights to make the right decisions. Anytime and anywhere!